Caramelized apples breton crepe, salted butter caramel and vanilla ice cream
Thin crepe, classic from Brittany, stuffed with caramelized apple slices and decorated with a drizzle of caramel and a scoop of vanilla ice cream for a nice temperature contrast.
Ingredients
Recipe for
8 crêpes
For the crepes
2 Ml
Orange blossom water
For the apples
For the caramel
4 Scoop(s)
Vanilla ice cream
Preparation time: 30 min
Mise en place

Peel, seed and cut the apples into thin slices.

Crepes preparation

In a large bowl, combine all ingredients and mix with a hand blender. Let the batter rest for 30 minutes. In nonstick skillet on high heat, drizzle some vegetable oil and pour a ladle of crepe batter to cover the surface of you hot pan cook 30 seconds on each side so that they get a golden brown coloration.

Caramelized apples preparation

In a hot skillet, place butter and caramelized the apple slices with brown sugar. Cook for 4-5 minutes.

Salted butter caramel

In a small saucepan, melt the sugar over medium heat with a little water without stirring. Once the sugar has completely melted, continue to cook without stirring until an amber color is obtained. At this point, lower the heat and add the salted butter and the cream in a drizzle while mixing. Cook 1-2 minutes until the texture gets homogeneous.

To serve

In each plate, place one or two crepes, garnish with a small amount of caramelized apples. Fold the crepe to cover the apples and drizzle with caramel. Garnish with a scoop of ice cream.
A very hot pan is necessary for the caramelization of your crepes, which gives them their special flavor and texture.
Class with similar recipe
Sunday, January 12th
10:30 to 13:30
LE BON BRUNCH
To be sure to make a success with your Brunch, complimentory mimosa upon arrival
Banana and maple syrup smoothie
Caramelized apples Breton crepe, salted butter caramel and vanilla ice cream
Duck skewers with chopped parsley and garlic, sautéed fingerling potatoes
Eggs Benedict on an English muffin
Smoked salmon bites, wasabi cream, cucumber juliennes and lemon segments
More information
Sunday, January 19th
10:30 to 13:30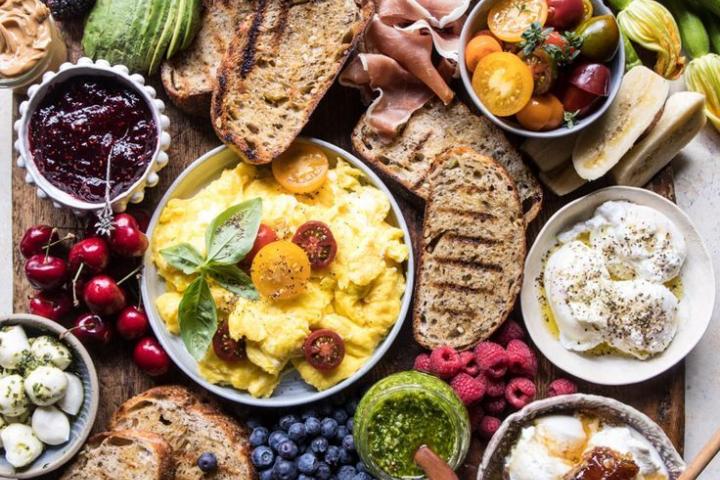 LE BON BRUNCH
Festive Brunch + Mimosa workshop on arrival!
Caramelized apples Breton crepe, salted butter caramel and vanilla ice cream
Gourmet bite of smoked salmon, wasabi whipped cream, fennel salad
Rasberry coconut Smoothie
Rustic sandwich with braised maple ham, smoked mayo and a poached egg
Waffle, shredded duck confit, crumbled goat cheese, lamb's lettuce, olive oil and lemon zest
More information
Sunday, February 9th
10:30 to 13:30
LE BON BRUNCH
To be sure to make a success with your Brunch, complimentory mimosa upon arrival
Banana and maple syrup smoothie
Caramelized apples Breton crepe, salted butter caramel and vanilla ice cream
Duck skewers with chopped parsley and garlic, sautéed fingerling potatoes
Eggs Benedict on an English muffin
Smoked salmon bites, wasabi cream, cucumber juliennes and lemon segments
More information