Tuna and shrimp tartare, diced strawberries, cilantro and peppercorn on croutons
Salted, Gluten free, Brunch
A delicious and fresh dish for summer. Yellowfin tuna tartar enhanced with shrimp, strawberries and coriander.
Ingredients
Recipe for
12 tapas
Tartar
10 Sprig(s)
Fresh cilantro
1 Dash
Chili paste (sriracha)
Crostinis
Salt and pepper
Vegetable oil
Preparation time: 45.00 min
Preheat your Oven at 400.00 °F
Preparation

Cut the tuna, strawberries and shrimp into small cubes (5mm). Finely dice the shallot and cilantro. Zest and then juice the limes.

Crostinis

Slice the baguette into slices as thin as possible. Lay them out on a baking sheet and drizzle with olive oil, salt and pepper. Cook for roughly 8 minutes in the oven.

Tartar

In a mixing bowl, combine all of the ingredients and drizzle with a bit of olive oil and sprinkle with salt to taste. Combine well and serve immediately.
The easiest way to make nice slices of baguette is to freeze it, and then cut it when partially thawed.
Class with similar recipe
Saturday, August 8th
18:00 to 21:00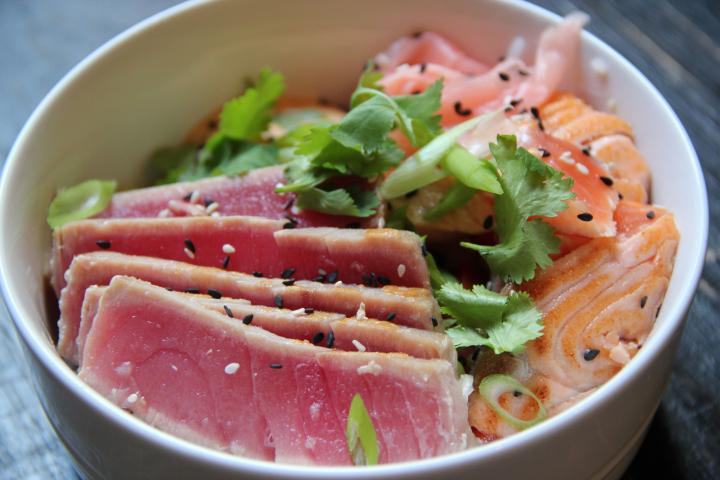 AUTHENTICITY OF HOMEMADE
Tartar & Poke Bowl, ann explosion of flavors !
Poh-Kay, scallops with citrus; sweet and savory
Tuna and shrimp tartare, diced strawberries, cilantro and peppercorn on croutons
Vegetable tartare, feta cheese and basil, spicy pepper coulis
More information
Thursday, August 20th
18:00 to 21:00
LES 6 à 8 COCKTAIL/TAPAS
Cocktail and tapas classes + 1 glass of wine included
Beef sirloin lollipop marinated in Sancho pepper and rosemary, blanched onion purée
Duck tataki with red berries, green peas in meat jus sauce
Haddock fish cake with corn and chive, Cajun mayonnaise
Moist yogurt cake, citrus sherbet, mandarin gel, lime zest whipped cream
Tony Cocktail
Tuna and shrimp tartare, diced strawberries, cilantro and peppercorn on croutons
More information