Vegetable tartare, feta cheese and basil, spicy pepper coulis
Gluten free, Salted, Vegetarian
All in freshness and subtlety! Lightly pepper coulis and feta cheese go very well together.
Ingredients
Recipe for
12 tapas
Tartare
16 Unit(s)
Cherry tomatoes
Pepper coulis
1 Unit(s)
Italian tomatoes
Preparation time: 45.00 min
Mise-en-place

Cut every single vegetable into a brunoise (small cubes). Same goes for the feta, if possible. Zest the lemon out and press its juice. Cut the basil and finely chop the red onion. Cut and dice the tomato and the pepper. Take the leaves off the thyme and roughly chop the garlic.

Tartare

Gently blend all the ingredients together with the Espelette pepper and bind all of their flavors with some olive oil.

Pepper coulis

In a pan on medium heat with a little bit of olive oil, cook the onion, the chilli flakes and the pepper. After 2mins, add in the thyme and the garlic. Lastly, finish with the tomato while adding a little bit of water. Let everything cook and all the flavors come together for 20mins and blend. Cool it off before serving.
Seasoning here is absolutely essential since there are no cooking to proper the flavors up a notch, everything, but the coulis is raw!
Class with similar recipe
Saturday, August 8th
18:00 to 21:00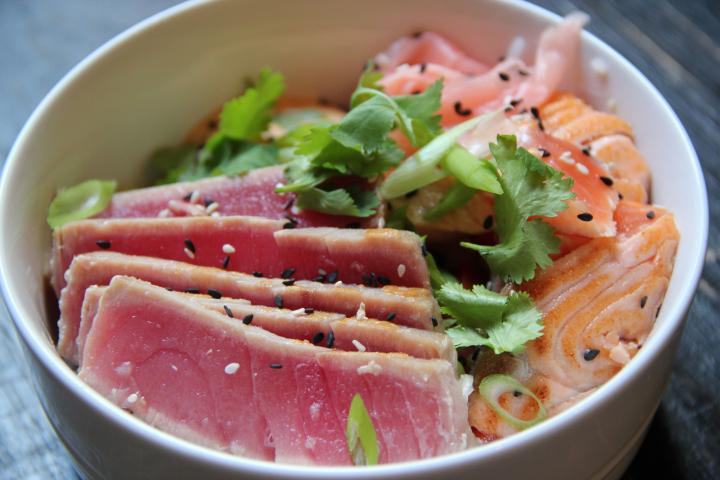 AUTHENTICITY OF HOMEMADE
Tartar & Poke Bowl, ann explosion of flavors !
Poh-Kay, scallops with citrus; sweet and savory
Tuna and shrimp tartare, diced strawberries, cilantro and peppercorn on croutons
Vegetable tartare, feta cheese and basil, spicy pepper coulis
More information