Ratatouille and apple smoked bacon casserole with a sunny-side up egg |
Brunch, Gluten free, Egg, Vegetables and Fruits, Pork
Individual casseroles: Applewood Smoked bacon on the bottom, topped with a ratatouille and a runny egg on top.
Ingredients
Recipe for
4 portions
Bacon
Ratatouille
Eggs
Butter
Salt and pepper
Vegetable oil
Olive oil
Preparation time: 30 min
Preheat your Oven at 370 °F
Bacon

Make nice cubes from your bacon slab. Sear them in a skillet without any oil or butter. Once you reach a nice golden color, strain to remove the excess fat and transfer to the individual casseroles.

Ratatouille

Wash your vegetables.

Finely chop the onion.

Cut the eggplant, zucchini and red pepper into small cubes.

Remove the seeds from the tomatoes and cut into small cubes.

To cook:

In a sauce pot, sweat your onions with a little bit of butter and olive oil. Add the minced garlic, thyme, bay leaf and eggplant and continue to cook for 3-4 minutes. Add the zucchini next and cook for another 2 minutes. Add the pepper and tomatoes last. Taste and season accordingly.

Transfer to the casseroles, on top of the bacon.

Eggs

Break your eggs directly on top of the ratatouille in the casseroles and then place in the oven for 7-8 minutes at 370°F.

Cut your bread into sticks and place on a baking sheet. Drizzle with olive oil, salt and pepper and then place them in the oven for 4-5 minutes, watching them to make sure they don't burn.

Slice the green onions diagonally to make 'sifflets'.

Plating

Place the casseroles on a round plate with 3 crostinis beside each of them and then garnish with the green onions.
« Make your recipes while having fun with friends or colleagues. »
Class with similar recipe
Sunday, November 19th
10:00 to 13:00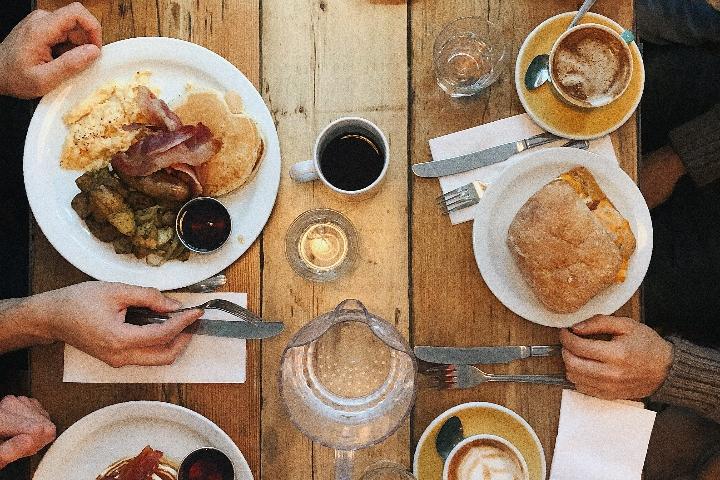 LE BON BRUNCH
A chic and comforting brunch, mimosa offered on arrival
Grilled asparagus and hollandaise sauce, flavours of Québec |
Ratatouille and apple smoked bacon casserole with a sunny-side up egg |
Turkey burger, green onion, Douanier cheese, gribiche sauce, lettuce, sun dried tomatoes
Pancake, saison fruits and maple syrup |
Field berry smoothie |
More information