Pineapple carpaccio, saffron and cardamom syrup, vanilla ice cream and coconut shavings
Thin slices of pineapple cut with a mandolin and macerated in a simple syrup infused with saffron and cardamom. The carpaccio is caramelized using a torch and served with a scoop of vanilla ice cream and roasted coconut shavings for a bit of crunch.
Ingredients
Recipe for
4 persons
For the carpaccio
6 Grape(s)
Cardamom seeds
For the garnish
4 Scoop(s)
Vanilla ice cream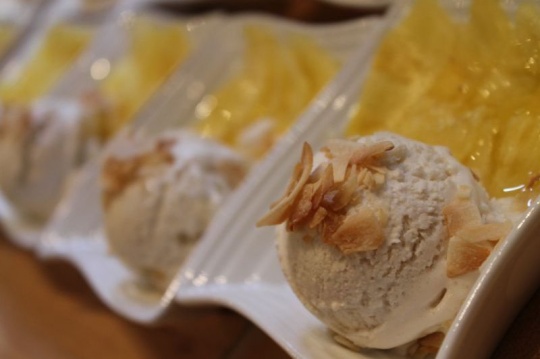 Preparation time: 30 min
Saffron and cardamom syrup

In a small saucepan, boil sugar and water, add cardamom seeds and simmer on low heat for 10 to 15 minutes. Remove from heat. Using a small sieve, remove the cardamom seeds from the mixture. Add the saffron and let steep for 10 minutes. Pour the mixture over the pineapple slices and let cool to room temperature.

Pineapple carpaccio preparation

Peel the pineapple with a chef's knife. First remove the head and the base and the follow the shape. Remove all blackheads. Cut pineapple into 2, lengthwise, then slice it thinly on a mandoline to get thin slices and place them in a large dish.

To serve

Place thin slices of pineapple on each plate in a fan. Sprinkle a spoonful of brown sugar. Caramelize with a torch then place a scoop of vanilla ice cream on top. Sprinkle with a little saffron syrup and garnish with roasted coconut shavings.
To know if a pineapple is ripe, there are two tricks: First, the leaves should be easily detached from the head. Second, the base of the pineapple should be fragrant.