French chouquettes, salted butter caramel dip
Sweet, Vegetarian, Brunch
Note
If you use salted butter, do not add fleur de sel in the caramel
Ingredients
Recipe for
12 Tapas
For the pâte à choux
150 Gr
Confectioner sugar
Salted caramel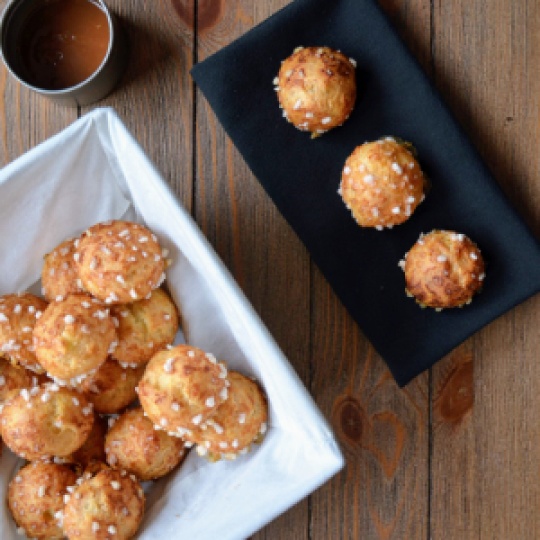 Preparation time: 45.00 min
Preheat your Oven at 400.00 °F
For the chouquettes

In a sauce pan bring the water, the milk, the sugar, the salt and the butter to boil. Remove from the stove and mix into the flour with a wood spatula. Put the mix back on the stove and dry it. Put it in the mixer, and add the eggs one by one. With a pastry bag, realize 3 cm size choux, spred the confectioner sugar on the top. Put the chouquettes in the oven, low the temp on 350 F and cook it until it's golden brown.

Salted caramel

In a pot, cook the sugar dry until it melts and gets a blond color. Add butter and mix. Add the warm cream and bring to a boil while whisking. Cook for about 2 minutes until the mix is smooth. Remove from heat and add the fleur de sel.

Best if you pass the cream threw a fine mesh sieve.
If you use salted butter, do not add fleur de sel in the caramel
Class with similar recipe
Saturday, October 30th
14:30 to 17:30
FANCY TAPAS
New Chic Tapas! 2 glasses of wine included
Salmon trout rillette, beets, Granny Smith apples, Yuzu juice and chives macedonia, Espelette pepper croutons
General Tao Chicken, pineapple sweet and sour sauce, Kaffir lime flavored rice
Beef Tartare, Chipotle Mayonnaise, sun dried tomatoes, chives and Parmesan croutons
Black olive tapenade with feta cheese, country bread, roasted cherry tomatoes, caramelized onions, arugula, Balsamic caramel
French Chouquettes, salted butter caramel dip
More information
Thursday, December 9th
18:00 to 21:00
FANCY TAPAS
New Chic Tapas ! + 2 glasses of wine
Shrimps salad with fresh and sundried tomatoes, crostini, coconut and parsley Pesto
Fresh tuna poke bowl, mango, avocado, rice, marinated ginger dressing and Tobiko
Gourmet beef hanger toast AAA cooked on charcoal; country bread, candied onion and arugula, Parmesan mayo
Corn and caramelized onions fritters , Pleine Lune cheese cream
French Chouquettes, salted butter caramel dip
More information
Sunday, January 23rd
14:30 to 17:30
FANCY TAPAS
New Chic Tapas ! + 2 glasses of wine
Gourmet beef hanger toast AAA cooked on charcoal; country bread, candied onion and arugula, Parmesan mayo
Corn and caramelized onions fritters , Pleine Lune cheese cream
Shrimps salad with fresh and sundried tomatoes, crostini, coconut and parsley Pesto
Fresh tuna poke bowl, mango, avocado, rice, marinated ginger dressing and Tobiko
French Chouquettes, salted butter caramel dip
More information