Nordic shrimps, fennel and avocado salad, spicy mayo and fresh cilantro
Fish, Seafood & Shellfish
Layered Nordic shrimp, thinly sliced fennel and diced avocado salad, homemade mayonnaise with spicy chili paste and chopped cilantro.
Ingredients
Recipe for
4 persons
For the salad
4 Sprig(s)
Fresh cilantro
For the spicy mayo
2 Ml
Chili paste (sriracha)
Preparation time: 20.00 min
General preparation

Zest the lemon skin and juice it. Chop the cilantro. Cut the avocado in cubes, add some lemon juice and olive oil to avoid any oxidation. Cut the fennel in half and cut it in thin slices, mix immediately with a few drop of lemon and olive oil. Season the fennel and avocado with salt and pepper.

For the spicy mayonnaise

In a bowl, whisk the egg yolk with the Dijon mustard and dash lemon juice and zests. Add in the vegetable oil in a drizzle, while whisking constantly until you get a mayonnaise consistency. Add in the chili paste to taste. Season with salt and pepper. Mix the shrimp with a little bit of mayonnaise.

To serve

On your plate, using a ring mold, serve a portion of the avocado, fennel salad and the shrimp, press it gently with the back of a spoon, remove the mold and finish with some coriander leaves on top.
The Nordic shrimps are commonly called Matane shrimp in Quebec, not because the shrimps swim the St. Lawrence river up to Matane but because the city was the first to have a shrimp transformation plant.
Class with similar recipe
Friday, August 7th
18:00 to 21:00
LE MENU GOURMAND
It's summertime on the plates
French shallot hangar steak, Sarladaise style potatoes, mushroom persillade
Nordic shrimps, fennel and avocado salad, spicy mayo and fresh cilantro
Red fruits Tiramisu with lime cookies
More information
Sunday, August 16th
17:30 to 20:30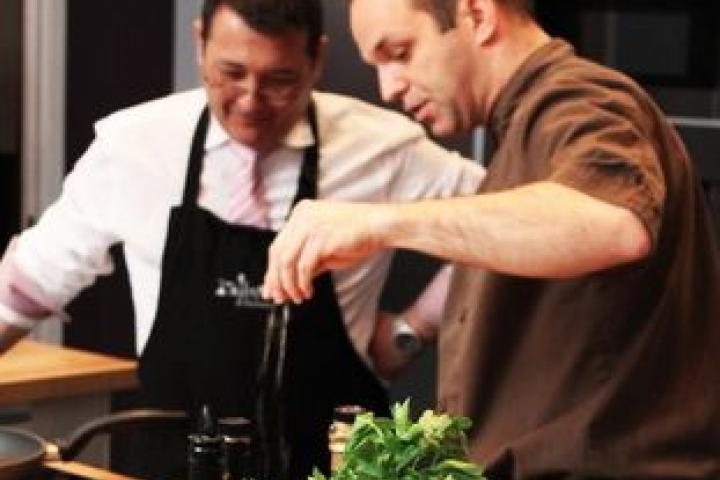 LE MENU GOURMAND
Prepare your summer menu
Beef flank, with roasted fingerling potatoes, mushrooms fricassée with garlic and béarnaise sauce
Nordic shrimps, fennel and avocado salad, spicy mayo and fresh cilantro
Red fruits Tiramisu with lime cookies
More information