beef tartare, chipotle mayonnaise, sun dried tomatoes, chives and parmesan croutons
Vegetables and Fruits, Beef
Can't go wrong with a tartare.
Here it comes with a chipotle spicy mayo. Those are little Jalapéno peppers that are dryed.
Note
Make sure your meat is store under 5°C to avoid bacterias.
Ingredients
Recipe for
4 persons
Tartare
4 Unit(s)
Sundried tomatoes
1 Tbsp
Chipotlé mayonnaise
Parmesan croutons
Chipotle mayo
1 Tsp
Chipotle pepper in adobo sauce
Preparation time: 30.00 min
Preheat your Oven at 400.00 °F
Prep

Slice the beef in little cubes. Put aside on a bowl, on ice in the fridge.

Chop the capers.
Peel and finely chop the shallots.
Chop the tomatoes.

Remove the leaves from the coriander, put few leaves aside for the decoration and chop the rest.

Grate the parmesan

Beef tartare

In a large bowl mix together all the ingredients and season to taste.

Mayonnaise

Mix the lemon juice, the mustard and the egg yolk. Whip slowly adding vegetable oil. Add the chipotle pepper and season to taste.

Croutons

Slice your baguettes, put the bread on a baking tray, sprinkle with olive oil and season to taste with salt and pepper.

Bake in the oven for 5 to 6 minutes. Keep an eye on your oven to make sure not to burn the bread.

Remove from the oven, sprinkle with Parmesan.
You can re-bake in the oven for 1 minutes if you want.

Dressing your plates

1/ Spread the tartare on your plate, add some parmesan shavings, chives and tomatoes.
Add some croutons and dots of spicy mayo.

2/ You can also use a round mold and place all your ingredients in it to give your tartare a shape.
Make sure your meat is store under 5°C to avoid bacterias.
Class with similar recipe
Saturday, October 23rd
14:30 to 17:30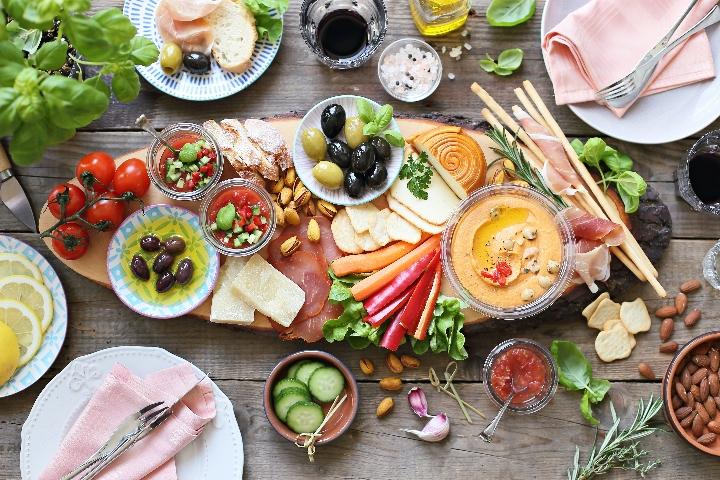 FANCY TAPAS
New Chic Tapas! 2 glasses of wine included
Salmon trout rillette, beets, Granny Smith apples, Yuzu juice and chives macedonia, Espelette pepper croutons
General Tao Chicken, pineapple sweet and sour sauce, Kaffir lime flavored rice
Beef Tartare, Chipotle Mayonnaise, sun dried tomatoes, chives and Parmesan croutons
Black olive tapenade with feta cheese, country bread, roasted cherry tomatoes, caramelized onions, arugula, Balsamic caramel
French Chouquettes, salted butter caramel dip
More information
Saturday, October 30th
14:30 to 17:30
FANCY TAPAS
New Chic Tapas! 2 glasses of wine included
Salmon trout rillette, beets, Granny Smith apples, Yuzu juice and chives macedonia, Espelette pepper croutons
General Tao Chicken, pineapple sweet and sour sauce, Kaffir lime flavored rice
Beef Tartare, Chipotle Mayonnaise, sun dried tomatoes, chives and Parmesan croutons
Black olive tapenade with feta cheese, country bread, roasted cherry tomatoes, caramelized onions, arugula, Balsamic caramel
French Chouquettes, salted butter caramel dip
More information