General tao chicken, pineapple sweet and sour sauce, kaffir lime flavored rice
Salted, Risotto, Pasta and Rice, Poultry
Everything's in there! Crispy deep fried chicken with an amazing sweet and sour sauce. Rice and sauteed vegetables.
Ingredients
Recipe for
12 Tapas
Chicken
1 Cup(s)
Japanese breadcrumbs (panko)
Sweet & sour sauce
Rice
4 Unit(s)
Kefir lime leaves
Vegetables
Salt and pepper
Vegetable oil
Preparation time: 50.00 min
Preheat your Fried at 375.00 °F
Mise-en-place

Chop the garlic and the ginger.

Cut the chicken into half an inch cubes.

Cut the peppers and the carrots into juliennes.

Cut the spring onions into 2 batches; the green part for dressing and decoration (bevel) the other one, the white part very finely as we'll be using it for the sauteed part in the wok.

Make cubes out of the pineapple.

Rice

Bring to a boil the kaffir leaves and the broth. Rinse the rice 2 times under cold water.

Add the rice to the broth and bring to a boil. Once that is set, lower down the heat to medium, cover, and let it cook for a good 15mins. Cover off, clean and dry rag on top, cover back on it and let the rice rest for 5mins.

Sweet & sour sauce

In a sauce pan, heat up the garlic and the ginger in the sesame oil a couple minutes on medium-high heat. Add in the vinegar, the brown sugar and the chilli flakes. Once a nice a smooth paste is made out of it, put all the remaining ingredients and put the heat back to low. Delay the cornstarch into a little bit of water and then pour it into the sauce. Bring the heat back up until everything thickens up.

Chicken

Start off by seasoning the chicken properly. Bread everything and deep fry the chicken until golden brown. Make sure the internal temperature reaches 72C, into the thickest part. You can finish it slowly in the oven at 350F for 12-15mins if in doubts.

Vegetable wok & montage

Heat up the wok on high heat for 5 mins, then add the vegetable oil. Sautee the carrots and the pepper until al dente and then add the spring onions and keep on cooking everything. Serve directly on the rice. Flip the pieces of chicken into the sauce and the very last moment.

Plating
The sauce is the key here. If you don't have cornstarch, ketchup can very well do it to thicken it all up and give it texture. This will enhance the flavors.
Class with similar recipe
Monday, August 3rd
18:00 to 21:00
CUISINE DU MONDE
Let's travel to Asian!
Khek with candied ginger, chantilly and litchi
Bangkok Soup with Coconut Milk and Curry, Silky Tofu, Shiitake and Crunchy Vegetables
General Tao Chicken, pineapple sweet and sour sauce, Kaffir lime flavored rice
More information
Saturday, August 8th
14:30 to 17:30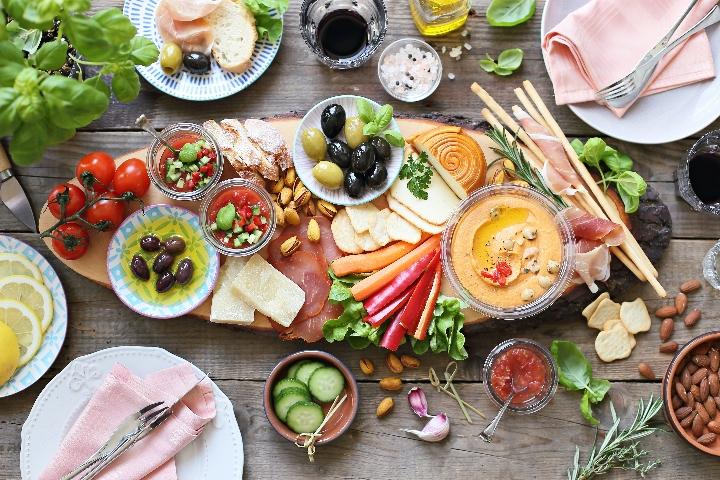 FANCY TAPAS
New Chic Tapas! 2 glasses of wine included
Beef Tartare, Chipotle Mayonnaise, sun dried tomatoes, chives and Parmesan croutons
Black olive tapenade with feta cheese, country bread, roasted cherry tomatoes, caramelized onions, arugula, Balsamic caramel
French Chouquettes, salted butter caramel dip
General Tao Chicken, pineapple sweet and sour sauce, Kaffir lime flavored rice
Salmon trout rillette, beets, Granny Smith apples, Yuzu juice and chives macedonia, Espelette pepper croutons
More information